Thank you for contacting Berkshire Home Solutions, a representative will contact you shortly.
Premium Vinyl Siding
A Smart and Simple Way to Invest in Your Future
There's a reason why vinyl siding is the most popular exterior cladding. Mixing handcrafted beauty with modern technology, vinyl siding wins popular favor with its appeal, durability, easy upkeep and excellent value. It's also friendlier to the environment than many other siding products, making it a great choice today and for generations to come.
Whether you expect the highest level of quality and performance or you're looking for value without compromise, there's an Alside siding system to meet your lifestyle and budget.
---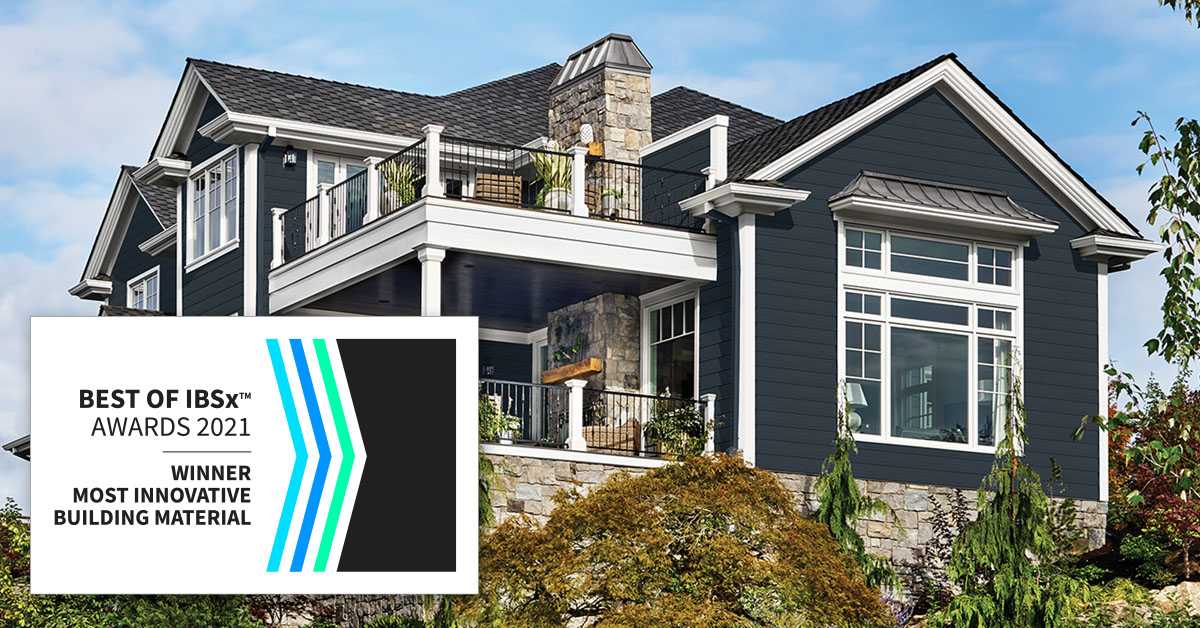 Ascend Composite Cladding
High-end look and beauty of real wood
Available in 20 on-trend colors.
Lifetime limited warranty ensures minimal maintenance.
Exceptional thermal and impact performance with fire- and moisture-resistance.
---
Charter Oak Energy Elite Insulated Siding
.046" premium panel thickness (nominal)
Up to five times the impact resistance of traditional siding
Features a precisely contoured insulating foam underlayment that helps reduce energy costs while keeping your home comfortable
Exclusive TriBeam construction delivers superior rigidity, for straight and even walls
500% more breathable than other insulated siding systems and will not absorb or retain moisture
Rolled-edge nail hem ensures superior performance in any climate and weather conditions
---
Charter Oak Featuring BASF Neopor Technology
.046" premium panel thickness (nominal)
Graphite particles in Neopor reflect and absorb radiant energy, making it more energy efficient
Siding insulation is contoured to fill the gap between the siding and your home for increased support and durability
Neopor can provide up to 20% more energy savings than traditional EPS insulation
Exclusive TriBeam construction delivers superior rigidity, for straight and even walls
Reduces the chance for mold and mildew growth
Rolled-edge nail hem ensures superior performance in any climate and weather conditions
Recognized as a green product for reduction in energy consumption
---
Charter Oak
.046" premium panel thickness (nominal)
Alsides flagship siding product, combines authentic wood beauty with unmatched durability, performance and maintenance freedom
Exclusive TriBeam design gives Charter Oak superior strength
Charter Oak is up to five times more rigid than the competition
Charter Oak siding has been independently tested to withstand Category 5 hurricane-force winds
---
Odyssey Plus
Premium .044" panel thickness without the premium price (nominal)
SecureLock advanced nail hem for superior rigidity
Extra strong rolled over nail hem
Choose from 24 popular colors
---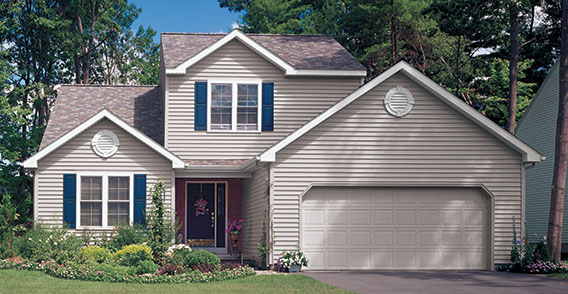 Coventry by Alside
.042" thickness (nominal)
Available in D4 clapboard and dutch lap, D5 clapboard and dutch lap, and triple 3" clapboard
Rolled top nail hem provides added rigidity
Natural cedar grain texture
Featuring 20 colors including new hues of gray and contemporary brown
---
Conquest
.040" thickness (nominal)
Available in 4-1/2" clapboard and dutch lap profiles
An occasional rinse with a garden hose will keep Conquest's natural cedar grain texture and low-gloss finish beautiful year after year
---
Williamsport Colonial Beaded
.044" premium panel thickness (nominal)
Gently rounded bead and a striking 3/4" projection provide historic elegance
Authentic 6-1/2" exposure
Brushed texture
Warm, low-gloss finish
---
Brighton Beaded
.042" panel thickness (nominal)
3/4" projection provides historic elegance
Generous 6 1/2" exposure
Brushed texture
16-color collection featuring architectural hues
---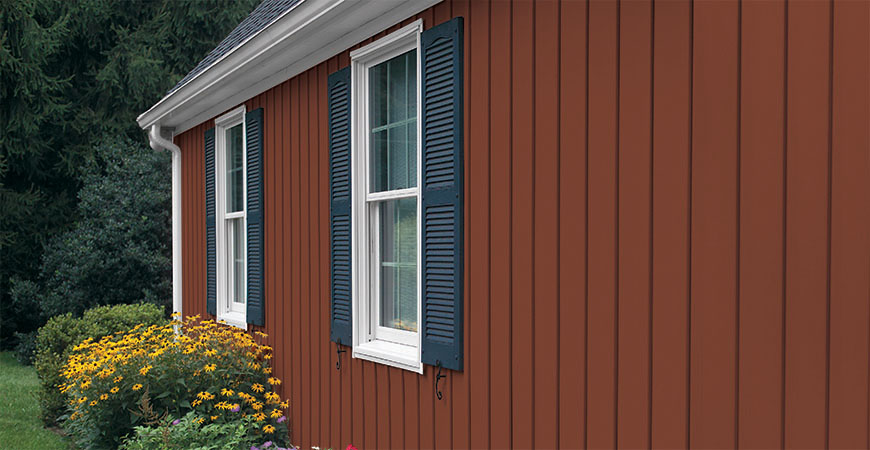 Board & Batten Vertical Siding
Create custom appeal with bold new colors
Historically inspired details of milled boards used in classic 19th century homes
Premium ingredients mean easy care and dependable quality